Seasoned Lamb Skewers
07 December 2020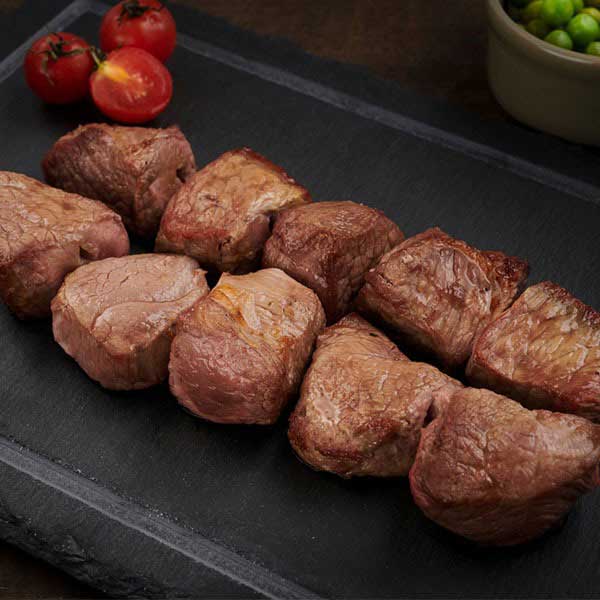 For those who crave Seasoned Lamb Skewers like marshmallows, this recipe is for you!

Servings: 4


INGREDIENTS:
FOR LAMB SKEWERS:

800 grams of lamb skewers (from leg meat)
FOR SEASONING MIXTURE:

4 tablespoons of yoğurt

2 tablespoons of onion juice

2 tablespoons of olive oil

1 tablespoon of chili paste

½ teaspoon freshly ground black peppercorn

½ teaspoon flaked red pepper

½ teaspoon cumin

1 clove of garlic

1 sprig of rosemary

CHEF'S NOTE: If you have left the seasoned meat in the refrigerator for a long time, fry it after resting at room temperature. According to desire, you can also pass shallots or garlic along with meat on skewers.
METHOD:
To prepare the seasoning mixture; mix yogurt, onion juice, olive oil, pepper paste, freshly ground black peppercorn, flaked red pepper, cumin, beaten garlic and rosemary in a deep bowl.
After mixing the lamb skewer, which the Kanarya Butcher sent you by chopping it into cubes, with the seasoning mixture, let it sit for at least 30 minutes.
If you are going to grill the meat, pass it on to metal skewers, if you are going to cook it in a griddle pan, pass it on to wooden skewers.
Cook the meat on a hot grill or pan, turning the back and front. Serve with a salad of your choice of green vegetables.


Bon Appetit!